A Tinker Bell Christmas: Magical Holiday Items

Have a fairy magical Christmas this year with Tinker Bell items!
Your holiday season will be more enchanting this year, thanks to Disney's most famous winged creature.
Tinker Bell was first portrayed as a common fairy in Peter Pan's Neverland in the early nineties. But it wasn't until she made it to theaters and TV when she became a pretty famous fairy.
We're not sure if her popularity is due to her feisty attitude or her adorable, enchanting look but this little winged creature has made it big! In fact, she has her own wax statue at Madame Tussauds and even has her own star in the Hollywood Walk of Fame!
It's no wonder why more and more people love Tinker Bell and lots of adorable items have also been made in the past years.
The Bradford Exchange Online, for one, has magical Tinker Bell items which are officially licensed by Disney. Probably one of our most favorite is the Disney Tinker Bell Figurine In Sparkling Christmas Tree Gown.
This hand-crafted Disney fairy wears a ruffled gown which is shaped like a Christmas tree. It sparkles too, with its Swarovski crystals!
Other great Tinker Bell finds are fine jewelry inspired by her. The Tinker Bell "Believe" Two-Toned Engraved Ring will be a perfect Christmas gift for any fairy-loving woman or teen.
It is made of solid sterling silver with 18K-gold plating and features Diamonesk stones for her wings. Looks like we won't need that pixie dust!
The Bradford Exchange Online also carries a Tinker Bell pendant with your initial! Again, this would be a great Christmas gift as it would be personalized. It doesn't disappoint in the looks department too, with its solid sterling silver make, 24-K gold plating and Swarovski crystals.
We also love this Sterling Silver Tinker Bell Charm Bracelet With Crystals – perfect with 14 handcrafted interchangeable charms. Each charm is 18-K gold and silver plated, with crystals and the famous "tinker" impressions and words all over.
Another great keepsake and present for Christmas is the Engraved Tinker Bell Diamonesk Earrings. Also known as Believe in the Magic Earrings, this lovely pair is made out of solid sterling silver and plated with 24-K gold.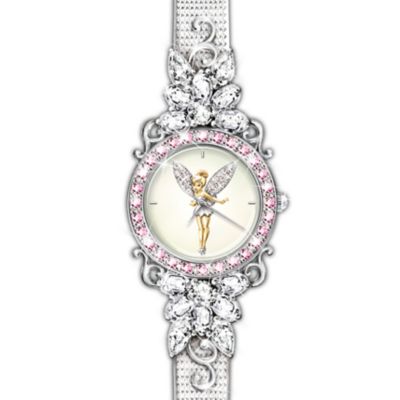 Finally, no Tinker Bell fan will be able to resist Tinker Bell's "Reflections Of Time" Watch. This magical watch features a raised portrait of Tinker Bell, clear and pink Diamonesk simulated diamonds and silver-tone filigree swirls on a stainless mesh band.
Spread the fairy love this season and check out more Tinker Bell items here.